Contemporary Christian romance with a mysterious island twist
Visit an island Christian retreat center on the southern tip of the world. Danger, adventure, healing, and romance might find you while you're here. Regardless of what you discover, you won't leave the same. Click the images for more information. Now available in large print editions.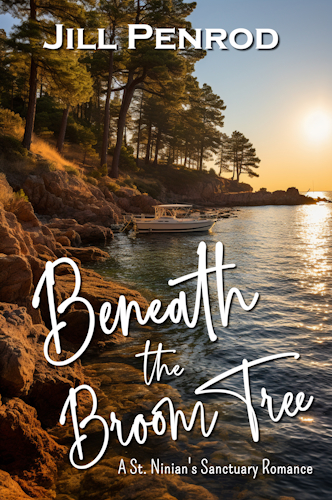 Now free at all retailers
They thought healing was impossible...
Haunted by grisly scenes from her past, journalist Ione Stavros needs to heal and recharge. According to its website, the mysterious St. Ninian's Sanctuary is a perfect place to do that. On an island so far south it's nearly in Antarctica, the retreat center promises quiet opportunities to meet with God and find refreshment. She prays that's true, because this is her last hope.
Callen came to the island to escape a fatal failure that won't leave him alone. Working the island farm and hiding in a cabin alone, he prays God will let him stop hearing, even for a moment, screams from his past life  working mountain search and rescue. He never expects God to begin that healing by placing a woman in his path who might be more broken than he is. He can't bear to carry her pain along with his own, but every time he turns around, there she is.
Together they listen for God's voice, explore the mysteries of the island, and try to make sense of hurts in their lives. As Ione moves forward, Callen steps back, and even the fragile healing they experience is put to the test. It isn't until danger threatens the entire island that they begin to understand God's plans for them—apart and together—as well as plans for the island they've grown to love.
Beneath the Broom Tree is book one in the St. Ninian's Sanctuary series, contemporary Christian small-town romance with a mysterious island twist.
He has no idea how to relax and heal
When the doctors told Huck his shattered leg would take a year to heal, he was angry. For years building St. Ninian's Sanctuary and being its head of maintenance had been Huck's identity, say nothing of how many demons the hard work kept at bay. With nothing to do now but heal, he's lonely, haunted, and doesn't know who he is.
Pearl O'Day is the new head of the hospitality department as well as the only single mother on the island. She's not sure she belongs here—and some of the staff seems to agree—but she also has no other place to go. She packed up her whole life in the States to work on this island retreat center at the bottom of the world. The job that seemed too good to be true might end up her biggest mistake, and that shakes her faith and her confidence to the core.
God seems to have different plans for both Huck and Pearl, deep plans that will address their pasts, their pain, and their loneliness. It might take a little danger, a lot of misunderstanding, and some good old-fashioned forgiveness to get this pair where God wants them to be. The only hope is that they don't lose something precious to both of them along the way.
As the Mist Scatters is book two of the St. Ninian's Sanctuary series, small-town Christian contemporary romance with a mysterious island twist.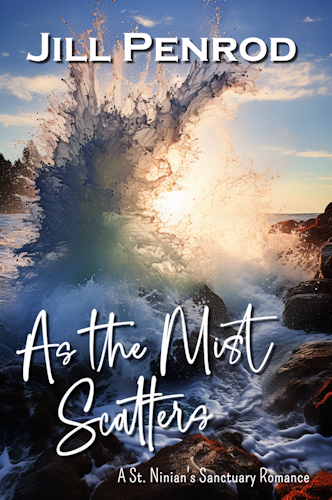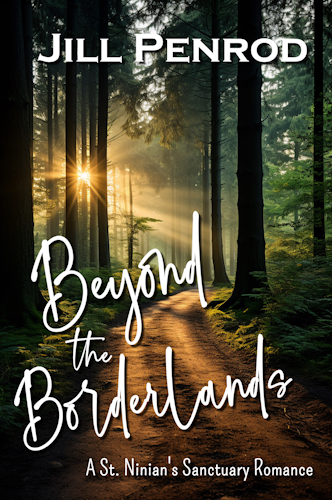 Everyone told him he was grieving wrong
After thirty year-old Sage loses his wife, people accuse him of grieving wrong. They don't know how hard he's trying to hide the nightmare his marriage had become. His teen sister-in-law Paisley, now his ward, understands least of all. She's angry, rude, and lonely, and Sage can't reach her. After they butt heads for six months, well-meaning family sends them to St. Ninian's Sanctuary to heal, but they have little hope a vacation will fix anything.
Violet and Heath live and work on the island, and each doubts his or her future here. Violet is lonely and thinks she isn't good with people. Heath is a new graduate who wants to stay but hasn't been invited. When they befriend Sage and Paisley and begin to dig into the pain and secrets surrounding the pair, four lives start to change.
Unfortunately, not one of them sees past his or her own heartache. It isn't until one of them goes missing that they begin to focus through the eyes of the others, only by that point it might be too late to fix anything.
Beyond the Borderlands is book three of the St. Ninian's Sanctuary series, small-town Christian romance with a mysterious island twist.
Mac's secrets are coming for him
Years ago Mac Galloway, a man of great standing on St. Ninian's Sanctuary island, was another man with another name, a man the world considers dead, a man Mac hoped would never see the light of day again. Unfortunately, that man's past is haunting Mac. He can't sleep, falling prey to nightmares of a life he thought he'd left behind, but if anyone discovers the truth, he might lose everything.
Meanwhile, for Kai Alexander and her adopted teen son Dom, St. Ninian's Sanctuary is their last stop. Dom's rebellion in the States means they can't go back, and yet Kai fears that her troubled son won't do much better here at a spiritual retreat center, where she's taking a job as a potter.
When Dom learns some of Mac's secrets, he feels betrayed, because if Mac goes down, so does the sanctuary, and Dom knows this place is his new mom's only hope, maybe the only place in the world she and Dom can stay together and be happy.
Danger and heartache finally force Mac to face his past, his fears, and his brokenness. With the help of children, whales, and a woman who trusts Mac when she should run from him, Mac must make some decisions concerning his life and the life of the island he loves. Eventide is book four in the St. Ninian's Sanctuary series, small-town contemporary Christian romance with a mysterious island twist.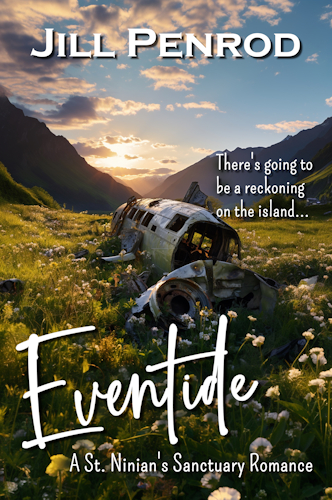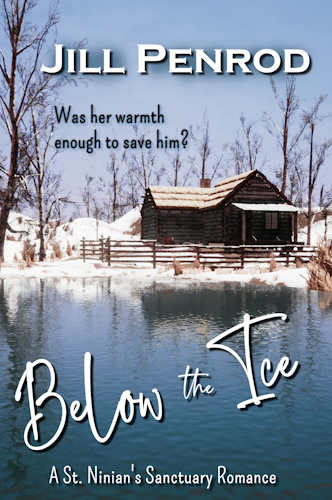 She lived in black and white. God sent her the king of the gray
Trevor is the son of a Sanctuary staff family who shows up unannounced and discovers his parents have never told anyone on the island of his existence. Having fought the justice system and lost, Trevor is broken and exhausted and hasn't the strength to put together a new life anywhere else, but when the retreat center staff catches wind of the lies that define his past, they don't want him, either. The worst heartbreak is that his family believes the lies as much as anyone.
Yvonne works in the retreat center kitchen, and she's content there. With her sunny disposition and ability to be content with the mundane, she thinks her life will be good and remain good until the end of her days. Rarely does she get involved with guests, believing feeding them is enough. For the lady who believes good always comes from good, meeting Trevor, for whom life seems cruelly unfair, rocks her core beliefs.
Yvonne may not understand how Trevor's life fell apart, but her heart knows this man needs help and gentleness. Stepping out of her black and white world and into Trevor's life of gray is the most difficult thing she's ever done, and she isn't sure it's what God wants from her. At the heart of her struggles are questions of who God is and what he expects from her, and those questions shake her very foundations.
Join Yvonne in the battle for Trevor's heart and soul, a battle that will change the lives of everyone he touches. St. Ninian's Sanctuary series, small-town contemporary Christian romance with a mysterious island twist.
Could this be the end of the island?
Felicia is on the island to watch her cousin Lynn marry one of the island pilots. Barry is on the island to give his mother-in-law a chance to refresh and recharge, knowing caring for his wheelchair-bound son is wearing her down.
Or so they believe. Perhaps God wants Felicia's childhood wounds to heal. Perhaps he wants her to touch a boy trapped in a broken body and a broken mind. Perhaps Barry is here for his own heart, which shut down after the accident that killed his wife and damaged his son, the accident he believes was his fault. Perhaps both of them need love and new beginnings.
Or perhaps it's even bigger. Perhaps this pair has a darker purpose, and they will face great loss and heartache to reach the soul of an island that's floundering. For months now the sanctuary has fractured and gossiped and torn people down, and this family might be the catalyst for change for an entire island's future. Even at a devastating cost.
St. Ninian's Sanctuary series, small-town contemporary Christian romance with a mysterious island twist.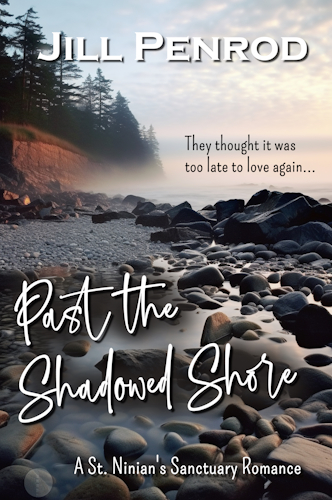 They didn't believe in second chances
Almost a decade after losing his wife, Frank Van der Haas feels like life is over. His boys are grown; his job doesn't interest him; he's lonelier than he'll admit; and he can't quite find reason to get up in the morning. When his oldest son invites him to visit on St. Ninian's Island, Frank thinks he'll apologize for his terrible parenting, not find a new reason to go on.
Vera Boone, a friend of Frank's son, has lost her grandfather, who played the role of father all her life, and when her friends discover Frank is traveling to St. Ninian's, they conspire to send her along, thinking she needs a change, that more than grief is bogging her down.
They don't expect to meet God on the island, to find renewal for their faith. They don't expect to find Levi and Opal, a staffer and a guest who've lost hope in romance and happily ever after. They especially don't expect to end up in the middle of a battle between the owner of the island and his brother, nor do they know that battle on the island often leads to crises and danger. But their expectations mean nothing, because God has plans for this lost pair and for the lives they're about to touch on their journey.
St. Ninian's Sanctuary series, small-town contemporary Christian romance with a mysterious island twist.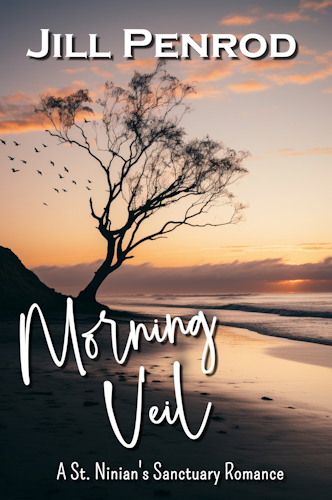 He thought he was rescuing her...
Morning Veil is a FREE standalone novel in the St. Ninian's Sanctuary series, small town Christian romance with a mysterious island twist.
Known for his charm and charisma, pilot Kyle Bolton is a favorite at St. Ninian's Sanctuary, a Christian retreat center on an island at the bottom of the world. He loves to fly guests in and out. He loves meeting new people. He loves working on the sanctuary farm. Except lately, he hasn't loved anything at all, and he can't tell anyone he's drowning in loneliness because he can't make sense of it himself. What would make the most popular guy on the island feel so lost and alone?
A barista at the airport on the nearby continent, U.S. student Megan Gallagher is struggling with loneliness of her own. When she'd come to the southern tip of the world for school, she'd imagined adventures and new experiences, but she hates her classes and finds herself hiding in her room from everything unknown. The only thing that calls to her are the brochures the charming pilot Kyle leaves when he buys coffee between flights. The images of the haunting, beautiful, mysterious island look like life, even though they're tangled up with God and religion, things she knows nothing about. More than anything, she wants to see the island herself.
When Kyle mistakenly thinks Megan needs to escape a bad relationship, he sneaks her onto the island. In the midst of ancient tombs and hidden caves, Megan and Kyle are drawn together and to an understanding of God and themselves neither has known before. Danger and heartache threaten as they decide if the island, God, or each other play roles in their futures.
He would do anything to rescue her heart...
Needing to escape a tragedy, newlyweds Cherokee "Kee" and Cassie Jones accept a job at St. Ninian's Sanctuary as the horse team, where they'll establish a riding program for guests on the island retreat center. Mostly, Kee hopes God will heal his wife, because he's only had her for six months, and her shattered heart breaks his own. He's losing her, and this move is his final, dramatic attempt to save her.
He has no idea he's as lost as she is.
Promising herself she'll heal for Kee's sake, Cassie tries to find joy in the horses, the new people, the beauty of the island, but the pain in her heart slows her journey. It will take a horse thief, a broken staff member, and a shocking wound on her husband's heart to bring her back around. And when she does, the island might find itself home to one of the most amazing teams that's ever arrived.
St. Ninian's Sanctuary series, small-town contemporary Christian romance with a mysterious island twist.