H

e

t

h

o

u

g

h

t

h

e

w

a

s

s

a

v

i

n

g

h

e

r
Pilot Kyle Bolton is a favorite at St. Ninian's Sanctuary, a Christian retreat center on an island at the bottom of the world. He loves to fly guests in and out. He loves meeting new people. He loves working on the sanctuary farm. Except lately, he hasn't loved anything at all, and he can't tell anyone he's drowning in loneliness because he can't make sense of it himself. What would make the most popular guy on the island feel so lost and alone?
A barista at the airport on the nearby continent, U.S. student Megan Gallagher is struggling with loneliness of her own. Going to school in a foreign country isn't what she expected, and she hides in her room most days.The only thing that calls to her are the brochures the charming pilot Kyle leaves when he buys coffee between flights. The images of the haunting, beautiful, mysterious island look like life, even though they're tangled up with God and religion, things she knows nothing about. More than anything, she wants to see the island herself.
When Kyle mistakenly thinks Megan needs to escape a bad relationship, he sneaks her onto the island. In the midst of ancient tombs and hidden caves, Megan and Kyle are drawn together and to an understanding of God and themselves neither has known before. Danger and heartache threaten as they decide if the island, God, or each other play roles in their futures.
Morning Veil is a standalone novel in the St. Ninian's Sanctuary series, small town Christian romance with a mysterious island twist.
I should have known, when I was eight and had triplet sisters, a crazy old neighbor in a big, spooky house, and a wild red-haired girl as a best friend, that my childhood might be less than normal.
It started with Bud, the old man next door. He introduced me to gardening, showed me how to be a gentleman, and talked about God. Then came Molly, the girl. Yes, say it with emphasis: The Girl. She brought me to life, called forth my inner hero, and occasionally crushed my soul. Nobody in the world could mess with my heart like Molly.
And family, the final prong of my adolescence. Sisters and more sisters. A birth injury that made my mother—and everyone else—keep a distance, and a whole lot of angst. They drove me to garden during most daylight hours, because dirt and plants were quiet and calm, and nothing else around me was either.
Time passed. I didn't realize I'd become the glue in my relationships, the knight to slay everyone's dragons, and the sounding board for their problems. I only knew I was the one person they forgot to see when they went through hardships. When they went down, I dragged them back to the surface. If I went down, I figured nobody would notice.
I sure never suspected that, if I went down, I could take the whole lot of them with me.
Terry's Garden, stories about a huge family, an enchanting garden, and a love story that touches generations. Christian coming-of-age/romance novels for teens and anyone who remembers what it's like to take those first wobbling steps into adulthood.
W

h

y

c

a

n

'

t

g

r

o

w

i

n

g

u

p

b

e

e

a

s

y

?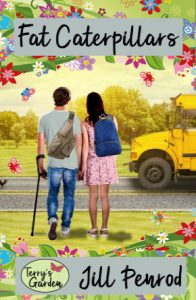 T

a

k

e

t

h

e

m

o

s

t

d

a

n

g

e

r

o

u

s

p

a

t

h

i

n

B

a

l

i

a

.

.

.
Meandering around a volcanic ridge, through jungle lowlands, and over salt flats, Dusk Lane is a route only the most desperate travelers find, and without strong guides nobody can survive the path through the beautiful and dangerous interior of Chimelu. Rika is one such guide, but this group of travelers might prove to be more than he can handle, for each has suffered great loss.
Young Aaden has lost his music; beautiful Suri has lost her voice; bold Annora has lost her future, and all three hope something on the path can restore them. Rika finds he has lost his detachment, and as he sinks more deeply into the lives of his travelers, he realizes this trek down the Lane may change his entire life. Of course, they're traveling in the rainy season when the path is most dangerous, so there's a good chance they won't survive to change at all.
Enter Balia, a world not so different from our own. Explore lush landscapes and rich cultures as Balia's creator, TrueGod, moves through many times and places to find lost and broken people to call his own. Fantasy with a Christian worldview.
Reeling from the death of his best friend—and struggling with the dark secret his dying friend made him promise to keep—True Fischer plans to spend the summer before senior year helping his dad run his apartment complex and hiding in his uncle's woodworking shop. He isn't sure he wants to deal with people and friendships ever again.
Then Jemma Kenton appears on the scene. Smart and yet clueless, Jemma graduated a year early and is staying at the apartment complex while tackling a freshman project at the local college. In her normally tactless way, she finds herself stomping around in True's issues and soon uncovers the secrets he hides.
Introducing these two doesn't seem like one of God's better plans, but if Jemma can dig deep to find her well of compassion, and True will accept the hand reaching down to pull him from the darkness, the pair might find this summer to be the most healing, satisfying event of their lives.
In this Christian new adult romance with a little coming of age thrown in, fall in love with True, Jemma, and their friends for a summer of rescues, adventures, and healing.